Eel ladders
The natural recruitment of eel stocks in rivers is prevented by numerous impassable barriers. However, glass eels and elvers can migrate upstream via special eel ladders. The Institut für angewandte Ökologie GmbH has experience positioning the entrance of a fish pass correctly and to operate such facilities properly. In addition, we have a mobile eel ladder in order to find a potential upstream migration corridor at a dam.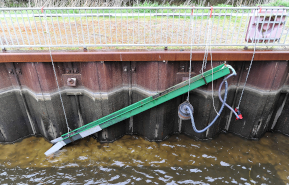 Mobile eel ladder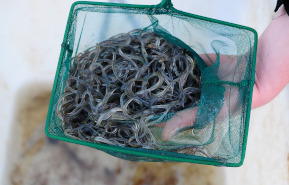 Glas eel, which mounted an eel ladder
Reference projects
Consultancy for erecting additional eel ladders in a new fish pass at weir Geesthacht.
Monitoring the upstream migration via eel ladders.
Publications
ADAM, B. & C. NEUMANN (2012): Aalleitern am Doppelschlitzpass Geesthacht. - Wasserwirtschaft 102/4, 40 - 43.
ADAM, B., U. SCHWEVERS, J. BOUBÉE & A. LEGAULT (2007): Die Renaissance der Aalleiter. - Fischer & Teichwirt 58, 283 - 386.