Technical Object Planning
For more than 25 years, the Institut für angewandte Ökologie GmbH has been working intensively on questions of construction and hydraulic design as well as operational predictions of reliable and well working fishways for up- and downstream migration and fish protection systems. Many rules and parameters in guidelines and worksheets have been defined by us toprovide design and threshold values. This competence of the Institut für angewandte Ökologie GmbH combined with engineering knowledge and practical experience form the solid basis for our consultancy for technical object plannings, which we carry out for governmental authorities and civil engineers.
So we have been involved in numerous planning procedures of fish passes, e.g. measures for an ecological upgrading of river courses and Europe's most successful fish pass on the Geesthacht weir. Due to the consistent implementation of the state of knowledge and art, this double slot fish pass, which was set into operation in August 2012, shows the best effectiveness with regard to the function parameters traceability and passability for poor swimmers as well as for the largest species and specimen at site, like catfish and sturgeon.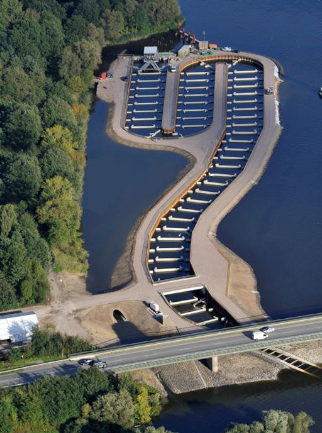 Double slot fish pass at the weir Geesthacht at the river Elbe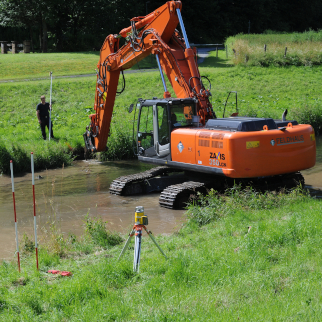 Revitalisation of a river course
Reference projects
Fish ecology advice for the planning and construction of fish ways at the barrages Offenbach and Kesselstadt at the river Main.
Study of different variants of fish passes regarding the optimization of the passability of the weir Gnevsdorf at the river Havel.
Technical planning of the ecological connection between the Winnenthaler channel and the abandoned meander Xantener Altrhein.
Assessment of the flow conditions in the tailwater of the barrage Iffezheim at the river Rhine with regards to the traceability of the entrance of the fish pass.
Consultancy regarding the minimum discharge at the Mittelsorger Mühle to ensure the river continuity.
Expertise on the fish downstream migration at the planned hydroelectric power plant at the Afföller weir in Marburg city at the river Lahn.
Technical object planning of fish protection, fish ascent and descent systems for a new hydroelectric power plant at the estuary of the river Syre in the Moselle at Luxemburg.
Fish ecological monitoring during the demolition of the Burscheider dam at the Eifgenbach.
Publications
SCHWEVERS, U. & B. ADAM (2019): Biometrie einheimischer Fischarten als Grundlage für die Bemessung von Fischwegen und Fischschutzanlagen. - Wasser und Abfall 21/1+2, 46 - 52.
SCHWEVERS, U. & T. HUKE (2016): Erfahrungen mit geschüttetem Sohlensubstrat im Doppelschlitzpass Geesthacht. - Wasserwirtschaft 106/7+8, 27 - 30.
ENGLER, O. & H. R. PISCHEL (2015): Der Rückbau der Burscheider Talsperre: gewässer- und fischökologische Auswirkungen. - Artenschutzreport 34, 27 - 34.
ADAM, B., R. BOSSE, U. DUMONT, C. GÖHL, J. GÖRLACH, S. HEIMERL, B. KALUSA, F. KRÜGER, M. REDEKER, P. SELLHEIM & U. SCHWEVERS (2014): DWA-Merkblatt M-509: Fischaufstiegsanlagen und fischpassierbare Bauwerke - Bemessung, Gestaltung, Qualitätssicherung. - Hennef (DWA - Deutsche Vereinigung für Wasserwirtschaft, Abwasser und Abfall e.V.), 334 S.
HUFGARD, H., C. NEUMANN, H. J. MENZEL & D. HEINZE (2013): Der Doppelschlitzpass Geesthacht: Bauweise und Funktion. - Artenschutzreport 31, 33 - 40.
ADAM, B., R. BOSSE, U. UMONT, R. HADDERINGH, L. JÖRGENSEN, B. KALUSA, G. LEHMANN, R. PISCHEL & U. SCHWEVERS (2004): ATV-DVWK-Themen: Fischschutz- und Fischabstiegsanlagen: Bemessung, Gestaltung, Funktionskontrolle. - Hennef (ATV-DVWK, Deutsche Vereinigung für Wasserwirtschaft, Abwasser und Abfall e.V.), 256 S.
DUMONT, U., P. ANDERER & U. SCHWEVERS (2005): Handbuch Querbauwerke. - Düsseldorf (Ministerium für Umwelt und Naturschutz, Landwirtschaft und Verbraucherschutz des Landes Nordrhein-Westfalen), 212 S.